Whether it's the middle of the winter or a pleasant warm day in the summer, saunas are one of the most popular activities to relax all year round. Apart from being a great reason for a family or group of friends to gather, it also offers a wide range of health and beauty benefits. However, although its main purpose is to relax the body and mind, it's important to learn some safety tips before purchasing your Sauna Depot sauna.
Whether you're a beginner or a sauna enthusiast, here is a list of dos and don'ts to keep in mind before your next indoor or outdoor session.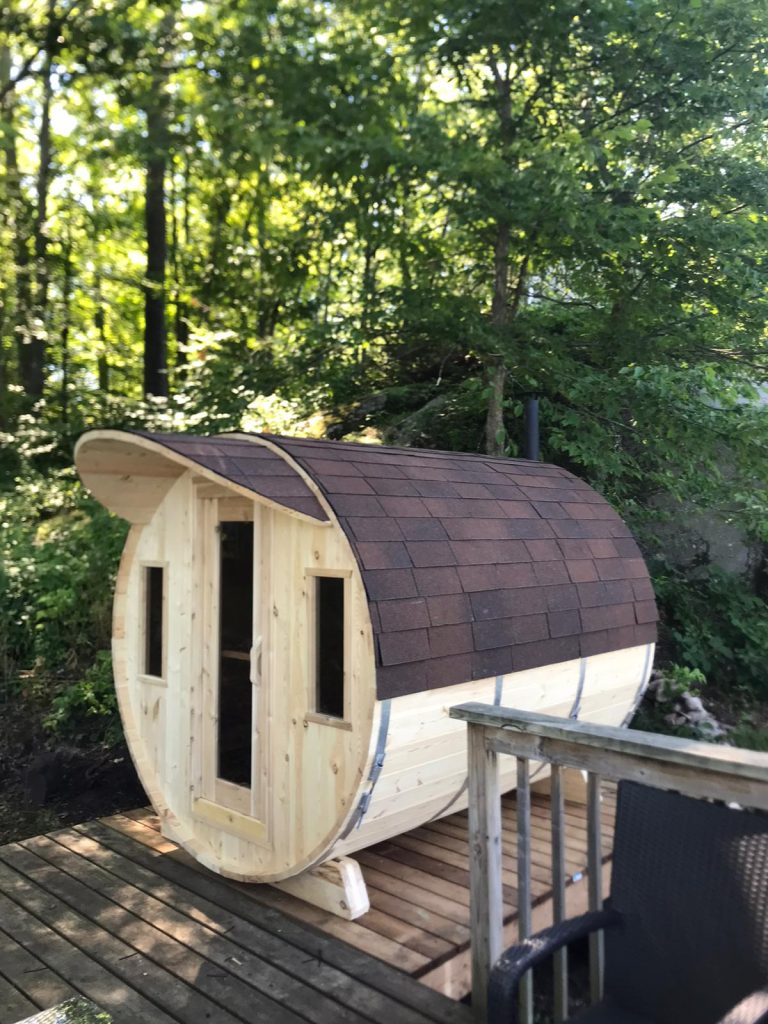 Dos
1. Bring A Towel
Get ready to sweat and wipe yourself down! Your towel will certainly come in handy during and after your sauna session as the electric or wood heater in your sauna will slowly intensify the
space. It can as well be used as an extra cushion under the wood for a more comfortable experience.
2. Wear Comfortable Clothes
What you wear will make or break your indoor or outdoor sauna session, as comfortability is key in a sauna environment. Be sure to avoid wearing any items of clothing that can cause additional sweating and discomfort. Squeezing yourself into tight jeans or formal clothes after a good sauna visit can be the worst idea you can offer yourself. Aim to wear linen or cotton clothes that feel the most comfortable to your skin.
3. Stay Hydrated
The more heat, the more liquid you lose in your body, and nothing will be more satisfying than a cold water bottle to cool you down. It's essential to always maintain your hydration in the sauna and always have a beverage during your sauna session. Tip: if you have run out of water, be sure to safely leave your backyard sauna to get an additional drink to avoid dehydration.
4. Shower Before & After Each Use
Always take a shower before and after entering your indoor or outdoor sauna. Not only will you ensure proper hygiene for yourself and other sauna visitors, but it will also prepare your skin for the steaming without any strange particles and bacteria. Getting rid of sweat, toxins, and cosmetic layers will leave your skin smooth and open.
Don'ts
1. Bring In Any Electronics
One of the main purposes of owning a sauna is the opportunity to have an escape zone, away from reality – without any distractions. Not to mention, the water and the heat of the electric or wood heaters can cause the inner hardware to melt, resulting in irreversible damages to your phone, laptop, or speaker. Tip: If you need to make an urgent call or send an email, safely turn off the indoor or outdoor sauna and proceed to use your electronics outside.
2. Go In After a Big Meal
Remember that one rule, to always wait about an hour after eating to jump into a pool? Well, saunas are no different. Due to the intensity of the heat inside the sauna, our heart pumps faster and the body begins to sweat quickly. This process can challenge your body's digestion and can result in your body feeling sick or ill. It is recommended to wait 1-2 hours before using the sauna and to always avoid going in on an empty stomach as well.
3. Overstay Your Time
Once you have purchased a Sauna Depot sauna, it's important to note the average time you should be spending in your new backyard getaway. Every person's body and its capabilities are different, and you should never overstay or feel pressured to continue using after a certain time. At Sauna Depot, we recommend each session to be no more than 20 minutes at a time. If you're feeling dizzy, have a headache, or feel your heartbeat pumping, feel free to leave at any point and always stay hydrated.
4. Consume Any Alcohol or Drugs
Although saunas can be a space to share with friends and family, consuming alcohol or drugs in saunas can cause severe health and safety impairments.
Consuming any substances can increase the probability of injuries occurring inside the sauna, as the environment is already intensified with steam and heat. Several studies have proved that drinking alcohol or taking drugs may increase the risk of heart problems and extend the hangover phase. It is crucial to never put yourself or those around you in a dangerous situation and remember that saunas are meant to be enjoyed with a sober mind, body, and soul.
To Conclude
Sauna can be a perfect weekend or evening activity when it's taken with care and consideration. Precautions considerably decrease the risk of any injuries during your experience. We hope that these dos and don'ts for your electric or wood heating sauna in Ontario enhance your sauna journey all year round.
To learn more about Sauna Depot's indoor and outdoor sauna products, visit our website http://www.saunadepot.ca or call us at 416-455-9955 today